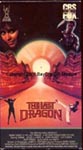 see images from the movie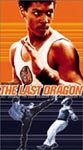 Remember the fresh martial arts meets hip hop/urban flick The Last Dragon from back in the day?
If not then you can check it out on video because it's being re-released this summer 7.3.01.

The movie was produced by Berry Gordy and directed by Michael Schultz who also directed such 80s hip hop flicks as Krush Groove and Disorderlies. He also directed a whole gang of Richard Pryor flicks back in the day along with Car Wash and Cooley High. The movie starred Taimak (his debut) who you might remember from Janet Jackson's video for "Let's Wait A While" and his guest star spot on "A Different World" in which (ironically) he played a rapist. (no parallel, but the role was messed up to watch if you had a crush on him) The film also stars Vanity, one of Prince's protegees. (funny how the co-stars both go by one name and they were hardly known at the time ?) The film's plot revolves around Taimak's character, Leroy, who is in search for the master so that he might receive further training in the martial arts. (little does he know that the master is within). Anyway, he gets harassed by evil martial arts gang leader, Sho Nuff. He tries to avoid fighting him because he doth not use his skills for evil and tries to stand as a postive role model for his fellow students and his lil' bro. However, when the girl of his dreams, Vanity (who is also a big music star), is in danger, he uses his power to fight off the bad guys and in turn finds the master (who is within) and gets "the glow" (my lil' bro & i use to pretend like we had "the glow": slow mo arms moving in circular motion and "pretend" glow forming around them. pre-Matrix eh).

I highly recommend this movie even if just for laughs. It also has DeBarge's "Rhythm of the Night" on the soundtrack.

A little more trivia:
One of the characters Busta Rhymes performed as in his video for "Dangerous" was Sho Nuff which was shonuff funny (sorry!).

Cool LD site from Fast-Rewind.com
Click on the images to visit related sites at amazom.com and imdb.com.